2020-08-18 00:00:00
AVerMedia Launches the Live Gamer DUO, World's 1st Dual Input Video Capture Card with 4K HDR and 240 FPS Support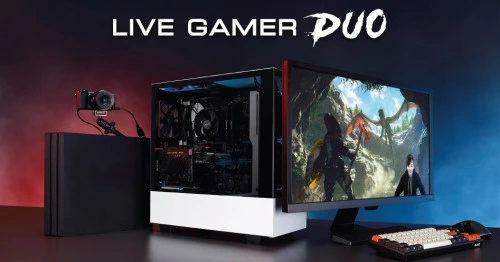 Taipei, TAIWAN – August 18, 2020 – AVerMedia Technologies, Inc., a leader in digital video and audio, today announced it has launched the Live Gamer DUO, the latest addition to AVerMedia's video capture card lineup. The Live Gamer DUO, shortened as DUO, is the world's first internal video capture card with dual HDMI inputs that supports 4K60 HDR10 and Full HD at 240 frames per second (FPS) and up to Full HD 60 FPS respectively.
With the DUO's primary input and powerful onboard video processing capabilities content creators will be able to enjoy 4K60 HDR10 or Full HD 240 FPS gameplay on the passthrough side, while capturing at Full HD 60 FPS or Full HD 60 FPS HDR10.Downscaling, frame rate conversion, and tone mapping is done on the card itself, allowing the creator's streaming rig to focus on more important tasks.
The DUO's secondary HDMI is a dedicated face camera-input without passthrough that supports a Full HD signal at a buttery 60 Frames per second. Ready to connect any mirrorless camera, DSLR, or camcorder with clean HDMI output and help capture every single reaction and creator's emotion while they stream.
Developed specifically with live creators in mind and designed to help all creators level up, the DUO utilizes two HDMI inputs—one for the creator's face camera, one for the gameplay— providing two independent and uncompressed Full HD 60 FPS video feeds, ready for live streaming. Raising the bar once more by furthering what creators can do to future proof their content, the Live Gamer DUO is undeniably the perfect balance between power and functionality.
Live Gamer DUO Features
• Dual HDMI Inputs
• 4K60 HDR10 / Full HD 240 FPS Pass-through
• Full HD HDR Recording
• Onboard Video Processing
• 7.1/51. Ch Surround Sound Pass-Through
• RGB Lighting Effects
Product Details
• Interface: PCI-Express x4 Gen 2
• Input 1: HDMI 2.0 * 1
• Input 2: HDMI 1.4 * 1
• Output 1 (Pass-Through): HDMI 2.0 * 1
• Output 1 Max. Pass-Through Resolution: 2160p60 HDR / 1440p144 / 1080p240
• Max. Recording Resolution:
Input 1: 1080p60 HDR*
Input 2: 1080p60
• Supported Resolution:
Input 1: 2160p, 1440p, 1080p, 1080i, 720p, 576p, 480p
Input 2: 1080p, 1080i, 720p, 576p, 480p
• Record Format: MPEG 4*
• Dimensions (W x D x H): 140 x 125 x 22 mm (5.51 * 4.92 * 0.87in)
• Weight: 209 g (7.37 oz)
*H.264 & H.265 encoder is provided by GPU; Audio codec is provided by OS
-LGD Supports 7.1 / 5.1 Ch. LPCM surround sound pass-through
-LGD does not support viewing / recording / streaming of HDCP protected signals
System Requirements (Dedicated streaming rig)
• Operating system: Windows 10
• Operating system: Windows® 10 x64
• Processor: Intel® i5-6XXX / AMD Ryzen 5 1600 or above
• Graphics Card: NVIDIA® GTX 1050 / AMD R7 560* or above
• RAM: 8 GB RAM (DDR4 2400 or above)
*For 1080p60 HDR Radeon RX5500 XT or above
Availability and Price
The Live Gamer DUO is available on for US$249.99 (MSRP), excluding local duties and taxes, from AVerMedia's resellers in selected regions.
About AVerMedia Technologies, Inc.
Established in Taiwan in 1990, with US headquarters in Fremont, California, AVerMedia is a leader in Digital Video and Audio Convergence Technology. The company provides cutting edge, high quality audio and video peripherals and professional capturing and streaming solutions. AVerMedia is committed to providing rich experiences in entertainment and communications, delivered via innovative and environmentally-friendly solutions. The company is highly involved in community and social responsibilities, and partners with ODMs for the development of AVerMedia's technologies for integrated applications. To keep up with AVerMedia and its lineup of quality streaming hardware, follow @AVerMedia on Twitter, on Facebook at www.facebook.com/AVerMedia or on Instagram. Users can also subscribe to the AVerMedia Reddit, /r/AVerMedia.