Do you have recommendations lists of SSD(Solid-state drives) & SD cards for EzRecorder 330?

SSD(Solid-state drives)

Please use NTFS/exFAT format USB SSD(Solid-state drives). We suggest you use the USB SSD at least 500G capacity. Please format your hard drive to NTFS before using it.


Note: If you use more than 2TB hard disk, it is recommended to divide it into 2TB X2 on the computer, or directly change the hard disk to MBR format, and then put it into ER330 for recording

Seagate SRD00F1/ 1 TB USB HDD
TOSHIBA V63700-B/ 750GB USB HDD
ADATA SU800 /128GB SSD HDD
WD WDBY8L0020BBK/ 2TB USB HDD
WD My Passport 4TB USB HDD
HGST 5K1000 HDD /1TB USB HDD
Micron MX200 SSD/ 240GB USB HDD

SD cards

EzRecorder 330 supports exFAT and FAT32. We recommend you use exFAT because using FAT32 will cause your recordings to be automatically be broken down into multiple 4GB segments. By the way, most current SD Cards come pre-formatted in exFAT, and exFAT is our recommended format.

Micro SD Supported formats: exFAT format(Highly recommended) / FAT32 format
-Compatible card: microSDXC card
-Speed: UHS-I Speed Class 3 (U3) A2 V30 or higher required
-Maximum supported capacity: 512GB

You can see the below list of Micro SD card below:

Samsung/(MB-MC128GA/ECO)/128GB / U3
SandDisk microSDXC 128G U3 V30 4K Ultra HD A2)/128GB U3/V30/A2
Lexar Professional (66128G-BNANG)/128GB U3/V30/A2
Transcend UHS-I microSD 330S/128GB U3/V30/A2
SanDisk Extreme PRO microSDXC /128GB U3/V30/A2
Kingston SDCG3/128GB U3/V30/A2
ADATA Premier Pro microSDXC/128GB/U3/V30/A2
SanDisk Extreme Pro SDXC UHS-I/(V30) 128GB
SAMSUNG EVO Plus microSDXC/UHS-I U3 256GB

Notes: Most SD cards come with markings speed ratings followed by below example.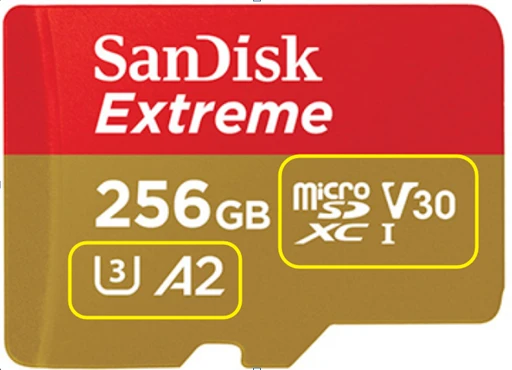 For more information on different SD Card speed classifications, see the table below.
https://www.sdcard.org/developers/overview/speed_class/

-