2020-04-14 00:00:00
AVerMedia Launches the Live Gamer BOLT, World's First External 4K HDR and 240 FPS Video Capture Box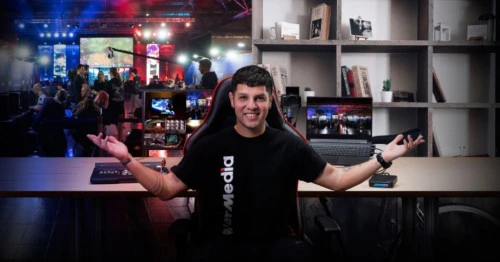 Taking the Live Gamer 4K and thinking outside the box - Uncompressed video capture, mind-blowing low latency, and great design; External video capturing will never be the same.
Taipei, TAIWAN – April 14, 2020 – AVerMedia Technologies, Inc., a leader in digital video and audio, is proud to announce the launch of the Live Gamer BOLT today. The latest addition to AVerMedia's 4K video capture lineup, the Live Gamer BOLT—shortened as the BOLT— is the world's first external video capture device to record 4K60 HDR10 and Full HD at 240 frames per second, featuring ThunderboltTM 3 connectivity. With the BOLT's ultra-low latency, award-winning aesthetics, impressive video capturing power, and RGB lighting effects, AVerMedia has set a new standard in the consumer video capture industry.
Thanks to the BOLT's innovative video capturing capabilities, content creators will be able to record HDR10 content up to 4K resolution (3840 x 2160) at 60 frames per second. For hardcore PC gamers, the BOLT can pass-through and record Full HD video at a whopping 240 frames per second. This gives PC gamers a more responsive gaming experience in addition to capturing epic slow-mo highlight footage.
The BOLT holds fast to AVerMedia's worldwide acclaimed ultra-low latency with a preview latency of less than 50ms. Due to Intel's powerful and robust ThunderboltTM 3 connectivity, the BOLT can deliver uncompressed video capture without compromise. With a built-in video processing unit, the BOLT is capable of up-down video resolution scaling, frame rate conversion, and even HDR to SDR tone mapping on the fly without affecting CPU or GPU performance.
At the time of its launch, the Live Gamer BOLT has already received two prestigious awards:The Taiwan Excellence 2020 Award for its industry innovation, and the Red Dot Award for its outstanding and elegant design, making the BOLT a leader in both the hardware and design aspects in the industry.
Because of its small form factor and the ability to connect to an audio mixer through its 3.5mm Line In, the BOLT allows content creators to move their setup and cover LIVE events anywhere with ease, or bring studio-like video quality to their personal online content.
"Getting similar performance [as the Live Gamer 4K] from an external capture card is mind blowing!" Said Richard Devine, Editor at Windows Central.
For those who love giving nothing but their best both at work and home and looking for the most powerful external video capture device in the market, the BOLT is here to help.
Live Gamer BOLT Features
• 4K60 HDR 10 Video Recording
• Full HD 240 FPS High Frame Rate Video Recording
• Onboard Video Processing
• 7.1/51. Ch Surround Sound Pass-Through
• ThunderboltTM 3 Connectivity
• RGB Lighting Effects
Product Details
• Interface: Thunderbolt 3 (Not compatible with USB 3.0, 3.1, 3.2)
• Video Input & Output (Pass-Through): HDMI 2.0
• Audio Input: HDMI 2.0, 3.5mm Line In jack
• Max. Pass-Through Resolution : 2160p60 HDR /1440p144/ 1080p240
• Max. Recording Resolution: 2160p60 HDR* /1440p144/ 1080p240
• Supported Resolution: 2160p, 1440p, 1080p, 1080i, 720p, 576p, 480p
• Record Format: MPEG 4
• Dimensions (W x D x H): 120 x 120 x 29.3 mm (4.72 x 4.72 x 1.15 in)
• Weight: 348 g (12.27 oz)
• Bundled Software: RECentral streaming software, Cyberlink PowerDirector 15 - 4K video
editing software
System Requirements (Dedicated streaming rig)
For 4Kp60 HDR or 1080p240 recording
• Operating system: Windows 10
• Processor: Laptop - i7-7700HQ; Desktop - i5-6XXX
• Graphics Card: Laptop - NVIDIA® GTX1050 Ti; Desktop - NVIDIA® GTX 1060 / AMD
RX 5500 XT
• RAM: Laptop - 8GB; Desktop - 8GB (DDR4 2400 or above)
Availability and Price
The Live Gamer BOLT is available now for US$449 (MSRP), excluding local duties and taxes,
from AVerMedia's resellers in selected regions.
Availability and Price
The Live Gamer BOLT is available now for US$449 (MSRP), excluding local duties and taxes, from AVerMedia's resellers in selected regions.
About AVerMedia Technologies, Inc.
Established in Taiwan in 1990, with US headquarters in Fremont, California, AVerMedia is a leader in Digital Video and Audio Convergence Technology. The company provides cutting edge, high quality audio and video peripherals and professional capturing and streaming solutions. AVerMedia is committed to providing rich experiences in entertainment and communications, delivered via innovative and environmentally-friendly solutions. The company is highly involved in community and social responsibilities, and partners with ODMs for the development of AVerMedia's technologies for integrated applications. For more information about AVerMedia Technologies, Inc. and its lineup of products, please visit www.AVerMedia.com/gaming Follow AVerMedia on Twitter at @AVerMedia and Facebook at www.facebook.com/AVerMedia.