2022-09-21 10:00:00
AVerMedia Announces the All-New D315AOB AGX Orin Box PC at NVIDIA GTC – A Microsoft Azure-Certified Device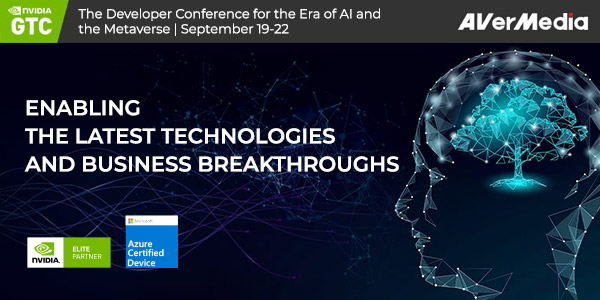 AVerMedia Announces the All-New D315AOB AGX Orin Box PC at NVIDIA GTC
– A Microsoft Azure-Certified Device
As a leading provider of digital video and audio convergence technology solutions, AVerMedia is proud to be a Gold Sponsor at NVIDIA GTC on September 19-22, 2022. This conference gathers the world's brightest tech innovators and business leaders, where attendees can share ideas and collaborate on the latest advances in AI, robotics, and more.
"We are honored to be sponsoring NVIDIA GTC this year," said AVerMedia Sales VP, Evange Chuang. "This is an incredible event that brings together some of the most brilliant minds in AI and deep learning and we are excited to see the advances that will come out of this conference."
At GTC, NVIDIA announced new NVIDIA® Jetson® Orin™ Nano system-on-modules (SOMs) that set a new baseline for entry-level edge AI and robotics, and build on the significant momentum behind the Jetson Orin platform worldwide.
During the conference, AVerMedia is showcasing its latest edge devices powered by the NVIDIA Jetson AGX Orin platform.
The Jetson AGX Orin SOM is high performance and power efficient, all while integrating rich I/O capabilities into a small form factor. The SOM is designed for applications requiring intense performance metrics and delivers up to 275 trillion operations per second (TOPS). Customers can develop their edge AI and embedded solutions for the Jetson platform today and then deploy and scale their applications on the full range of Orin production modules as they become available.
With applications increasingly requiring machine vision, AVerMedia also offers a wide range of frame grabbers that offer high bandwidth, minimal latencies, and possess multiple IOs to support a full range of cameras capable of processing digital and analog video sources via today's popular interfaces including HDMI, SDI, Composite, and more. These frame grabbers take advantage of AVerMedia's 30+ years of proven video processing knowledge and ensure customers receive flawless results.
The D315AOB has also been certified as a Microsoft Azure-certified device. Devices certified through the Azure Certified Device and Edge Managed program have been validated to work with Azure and the latest versions of IoT Edge. These devices include enhanced security using Microsoft Defender for IoT micro-agent that is integrated into the device. By including Microsoft Defender for IoT in the device itself, device builders and solution operators are able to create secure-by-design, managed IoT devices. Defender for IoT is an IoT EDR (IoT Endpoint Detection and Response) solution that delivers continuous asset discovery, vulnerability management, and threat detection across the device's operating system and applications.
During GTC 2022, NVIDIA will disclose additional details about the Jetson Orin platform including the new Orin Nano at The NVIDIA Jetson Roadmap for Edge AI and Robotics session on Tuesday, September 20, 2022 at 10 a.m. PDT, and available on demand thereafter.
For more information, please visit: https://www.avermedia.com/event/embedded-solutions/
About AVerMedia
Established in Taiwan in 1990, AVerMedia is a leader in Digital Video and Audio Convergence Technology and specializes in hardware and software solutions. The company provides cutting-edge, high-quality audio and video peripherals and professional capturing and streaming solutions. AVerMedia has recently expanded to Edge AI Computing and now develops proven solutions for globally branded companies. In addition, AVerMedia is committed to innovative and environmentally friendly solutions in entertainment and communication.