2022-03-21 00:00:00
AVerMedia and IronYun's Safety and Security Solution Video Now Available on Demand at NVIDIA GTC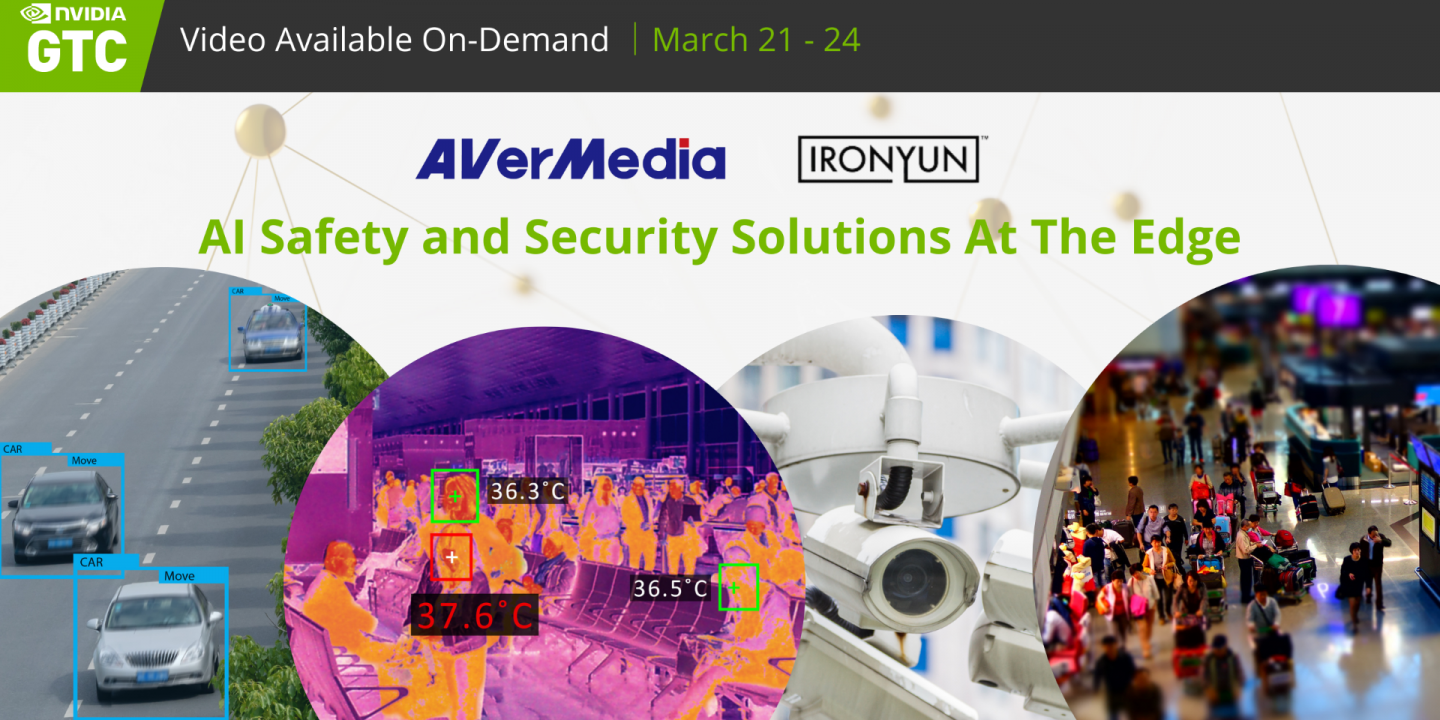 AVerMedia and IronYun's Safety and Security Solution Video Now Available on Demand at NVIDIA GTC
Taipei, Taiwan (March 22, 2022) – AVerMedia, a global leader of Edge AI Computing Solutions, announced today that it is a Gold Sponsor of NVIDIA GTC and is presenting a recorded video session about its safety and security turnkey solution with IronYun Inc. at the global AI conference. Running from March 21-24, GTC offers attendees more than 900 sessions featuring experts in AI, high-performance computing, and graphics covering the latest innovations, challenges, and solutions.
AVerMedia, an Elite partner within the NVIDIA Partner Network, presents with IronYun in the 50-minute on-demand video — "AI Safety and Security Solutions At The Edge." In this GTC session, industry experts Bryan Wang, Global BD Manager at AVerMedia, and Patrick Wu, VP of engineering at IronYun, discuss the benefits, appliances, and industry-proven use cases of the solution – NX215B, a compact, powerful fanless AI Box PC by AVerMedia, and Vaidio, an AI-enabled video analytics platform by IronYun.
"We surely understand that every client is different and has its own needs. For that reason, we have a wealth of resources to customize the BSP to support our client's software. With our 32 years of expertise in video processing technology and deep vertical knowledge, we proudly deliver robust edge AI solutions to our customers worldwide." said Braga Lai, Head of Product Development at AVerMedia.
Powered by the NVIDIA Jetson Xavier™ NX module, the NX215B AI Box PC delivers powerful AI performance into a small form factor within a rugged housing. A variety of I/O ports, such as M.2 key for SSD and WiFi, MIPI camera 4K input, have been included to support the storage of massive videos and images, and their analytics transmission at an enormous speed.
Enabling global projects to safety and security concerns, AVerMedia works with IronYun to bring their customers a reliable and easy-to-deploy solution. Vaidio, powered by IronYun, is an intuitive, accurate, and versatile video analytics platform with AI deep-learning technology. AVerMedia's NX215B AI Box PC and Vaidio deliver arrays of video search and analytics for health, safety, and security applications in places such as public safety agencies, airports, schools, businesses, hospitals, etc., for use cases like temperature detection, weapon detection, identity management, and access control.
GTC attendees can learn more about AVerMedia and IronYun's AI safety and security solution in their session available today. To watch the session, please visit here. For more about GTC, please visit here. To learn more about AVerMedia's NX215B AI Box PC, please visit here, and follow the company on LinkedIn, Facebook, Twitter, and YouTube.
About AVerMedia
Established in 1990, AVerMedia is a multinational company specializing in hardware and software for image capturing and video transmission solutions. AVerMedia has recently expanded to Edge AI Computing and now develops proven solutions for globally branded companies.